Load Restraint
Load restraint is perhaps one of the most discussed topics in the industry and getting it right is one of the trickiest jobs you'll ever have to do. This page contains information and links designed to assist you, but if you have any questions not covered here, please contact us.
Load Restraint vs Load Containment
Load restraint is a system which prevents the load from shifting from its required location. Load containment is a system to prevent the load from moving beyond the boundaries of the container.
HSE Guide To Load Restraint
The HSE Guidelines For Load Security On Curtainsiders states:
"Curtainsider trailers are essentially flatbed trailers with a weather-protection structure mounted on the bed of the trailer. Generally the weather protection structure is not rated for load restraint..."
The Law (Road Traffic Legislation)
The Road Traffic Act states that:
""A Person is guilty of an offence if he uses, or causes or permits another to use, a motor vehicle or trailer on a road when:
a) the condition of the motor vehicle or trailer, or of its accessories or equipment, or
b) the purpose for which it is used, or
c) the number of passengers carried by it, or the manner in which they are carried, or
d) the weight, position or distribution of its load, or the manner in which it is secured,
is such that the use of the motor vehicle or trailer involves a danger of injury to any person"
---
Regulation 100 of the Road Vehicles (Construction & Use) Regulations states that:
"1) A motor vehicle, every trailer drawn thereby and all parts and accessories of such vehicle and trailer shall at all times be in such condition … and the weight, distribution, packing and adjustment of the load of such vehicle and trailer shall at all times be such that no danger is caused or is likely to be caused to any person in or on the vehicle or trailer or on a road.
2) The load carried by a motor vehicle or trailer shall at all times be so secured, if necessary by physical restraint other than its own weight, and be in such a position, that neither danger nor nuisance is likely to be caused to any person or property by reason of the load or any part thereof falling or being blown from the vehicle or by reason of any other movement of the load or any part thereof in relation to the vehicle."
LoadFix
The Don-Bur 'Loadfix' system provides a convenient compliant rave-to-rave strapping solution.
⇧ 5T ratchet tensioners
Don-Bur offers a wide range of different ratchet options and strapping types.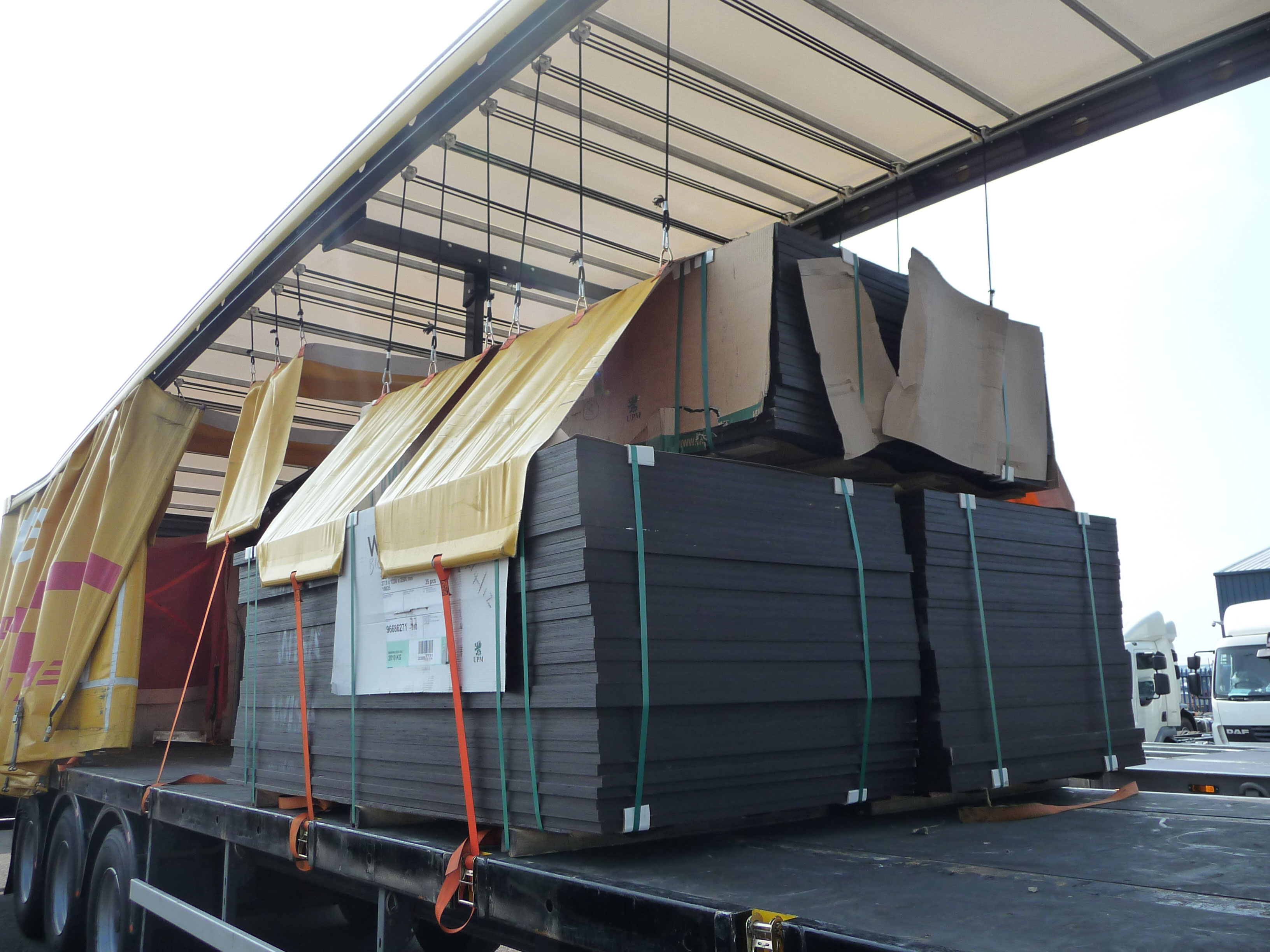 ⇧ Wide strap option with captive rave ratchets
EN 12642-XL
EN12642-XL is a certified European bodywork load containment rating that relates to the strength and therefore ability of the bodywork to contain loads.
Is EN 12642-XL Compliant?
EN 12642-XL is not a legal requirement in the UK and you can achieve full DVSA compliance without the need for an EN 12642-XL bodywork rating. However, EN 12642-XL rated bodywork is seen by the DVSA as one possible contributory standard toward full compliance.
EN 12640 - Lashing Points
BS EN 12640 is the approved European standard for lashing points on commercial vehicles for goods transportation. As defined by the EN 12640:2001:
"The standard specifies the minimum requirements and test methods for lashing points fitted to commercial vehicles and trailers with flatbed body construction of maximum total mass above 3,5 t and intended for general use."
What is a 'lashing point'?
A 'lashing point' is defined by EN 12640:2001 as a "securing device on a vehicle, to which a lashing may be directly attached".
Are you EN 12640 compliant?
To achieve EN 12640 compliance your lashing points must adhere to several parameters stated in the British Standard's EN 12640:2001, which include the way the lashing point is designed & constructed, the number of lashing points required for your operation and whereabouts you position your lashing points along your vehicle. Each of these parameters is dependent upon your vehicles length, minimum distance between lashing points and your vehicles 'permissible tensile load' (how much weight your vehicle can legally carry).
Don-Bur produces lashing points to an EN 12640 compliant standard.
⇧ Lashing points are used to spread the pulling forces of the load over the structure of the vehicle.
⇧ During EN 12640 testing, the test force is held for at least 3 minutes.
EN 12195-2 - Web Lashings
BS EN 12195-2 is the approved European standard for web lashings on road vehicles. As defined by the British Standard's EN 12195-2:2001:
"The standard specifies the safety requirements for web lashing made from man-made fibres with flat woven webbings for multiple use and of lashing combinations with woven webbings for the safe surface transport of goods on road vehicles, e.g. trucks and trailers which are used on roads or located on vessels or on rail waggons and /or combinations thereof."
What is a 'web lashing'?
A 'web lashing' is defined by EN 12195-2 as as a "means of securing… the cargo on a road vehicle... consisting of a tensioning device or a tension retaining device (e.g. ratchet) and flat woven textile webbing (strap) with or without end fittings (e.g. rave hook)".
Are you EN 12195-2 compliant?
To achieve an EN 12195-2 rating, web lashings must undergo structured testing to ensure they are 'fit for purpose'. Testing is carried out on the construction, strength and flexibility of the entire web lashing structure; this includes ratchet, strap and end fitting. All tested web lashing are then marked in accordance with EN 292-2:1991
⇧ All Don-Bur rated straps are tested to the demanding EN 12195-2 standard to give you peace of mind.