Lifting Deck Trailers
No company has more expertise in the specialist design and build of hydraulic Lifting Deck trailers (Multi Deck) than DON-BUR. Their experience extends back since the 1980's and their Lifting Decks now dominate the major fleets. DON-BUR consistently produces what is arguably the best and most cost effective hydraulic system technology in the industry.
What are Lifting Deck trailers?
Double Deck trailers are now commonplace due to their carrying capacity and ability to reduce operational costs by reducing delivery frequency; especially in trunking operations. However, the time to load a double deck is limited by the typical equipment needed to lift the load to the second deck level. This would normally be achieved via a two-tier tail-lift which is both relatively slow and creates additional issues when mating to a bay.
A Lifting Deck is a full-length or rear 3/4 length deck which can be loaded at normal deck height. Pressing a button will lift the entire deck (and load) up, and out of the way, permitting a second full-length payload to be positioned on the main lower deck.
This means that the payload equivalent of two trailers can be loaded quickly and efficiently.
The addition of a two-tier tail-lift provides the extra ability to drop to ground level; ideal for large bay-to-store deliveries.
3D Interactive Models
The two interactive animated models to the right illustrate typical loading processes for Lifting Deck Trailers.
Click on the images to load the experience.
Benefits
Maximum volume capacity
Optimise operational efficiency and speed
Simple one-button operation
Comprehensive safety features

Visible "Paddle" Locks
Rope arrestors
Hydraulic burst valve
Audio/visual deck movement warnings

Additional two-tier Tail-lift options
Optional aerodynamic "EcoStream" roof profile
24/7 Service Backup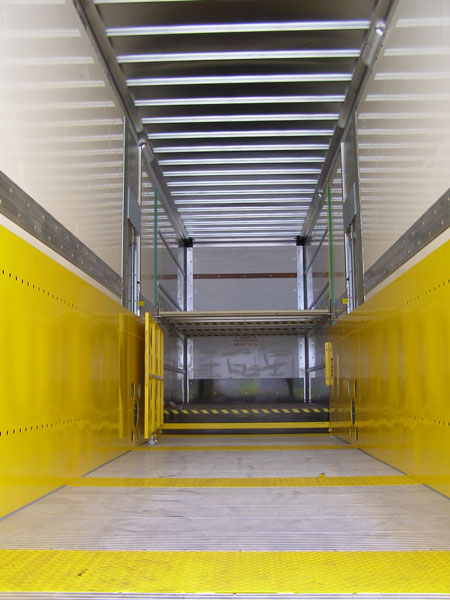 ⇧ 3/4 length Deck shown in it's lowered position. This example aslo has a fixed 2nd deck over the swan-neck area.
The simplicity, engineering precision and extensive use of standard, cost effective componentry make the Don-Bur lifting deck stand head and shoulders above its counterparts. The proven single ram and pulley system generates a consistent, uniform lift which is unaffected by varying load weights on various parts of the deck and is less susceptible to the stressing and flexing of the trailer.
For high volume capacity trailers, Don-Bur has, for some time, set the highest industry-recognised standards.
Whatever your needs, Don-Bur can engineer a solution to meet your operational and budgetary needs.