Pownall Valve Auto Park Brake
Keywords: Safety, Rollaway, Coupling, Park Brake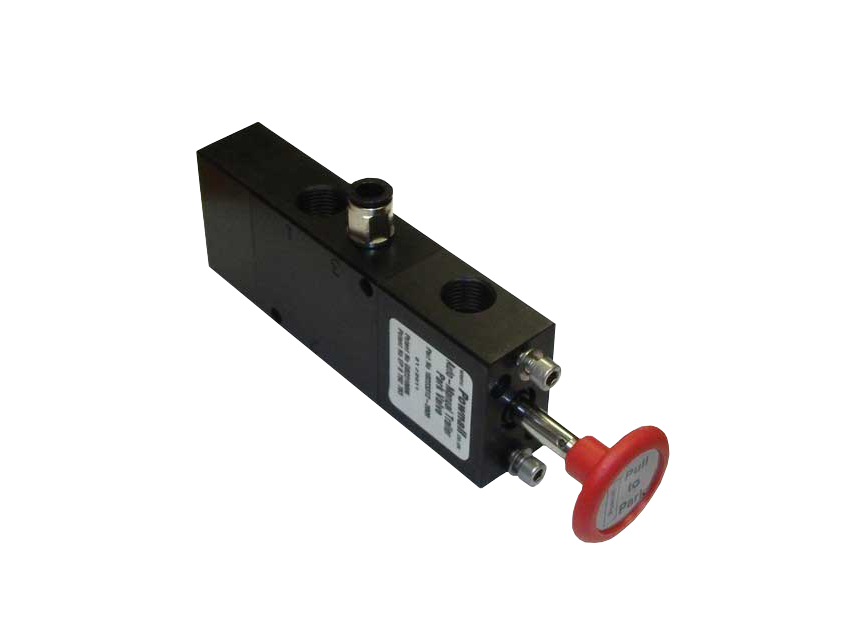 It is helpful, before understanding this feature, to read and understand the risk of trailer rollaway.
In the event that a driver disconnects their air lines without applying the park brake valve, the Pownall Valve uses residual trailer reservoir air to open the park brake valve and keep the brake chamber evacuted - even if the air lines are then subsequently re-connected.
In order for the driver to pull away, they need to manually push in the Pownall/Park valve to release the trailer spring brakes.
The system prevents roll-aways in the event where drivers have not applied the park brake when dropping a trailer and relying on the emergency services brakes which apply when the red line is diconnected.
It is widely assumed that trailer spring "park" brakes are applied simply by disconnecting the red (emergency) line and that the park button does nothing more than this. Not only is this assumption about the so-called fail-safe nature of trailer brakes technically inaccurate, it could prove positively dangerous at the time a trailer is re-coupled.
The Pownall trailer park valve can be manually operated at any time (like a standard park brake valve) and does not prevent or relieve drivers of their duty to follow safe working practices. However, should the driver forget, the Pownall safety park valve automatically activates, acting as a safety backup.