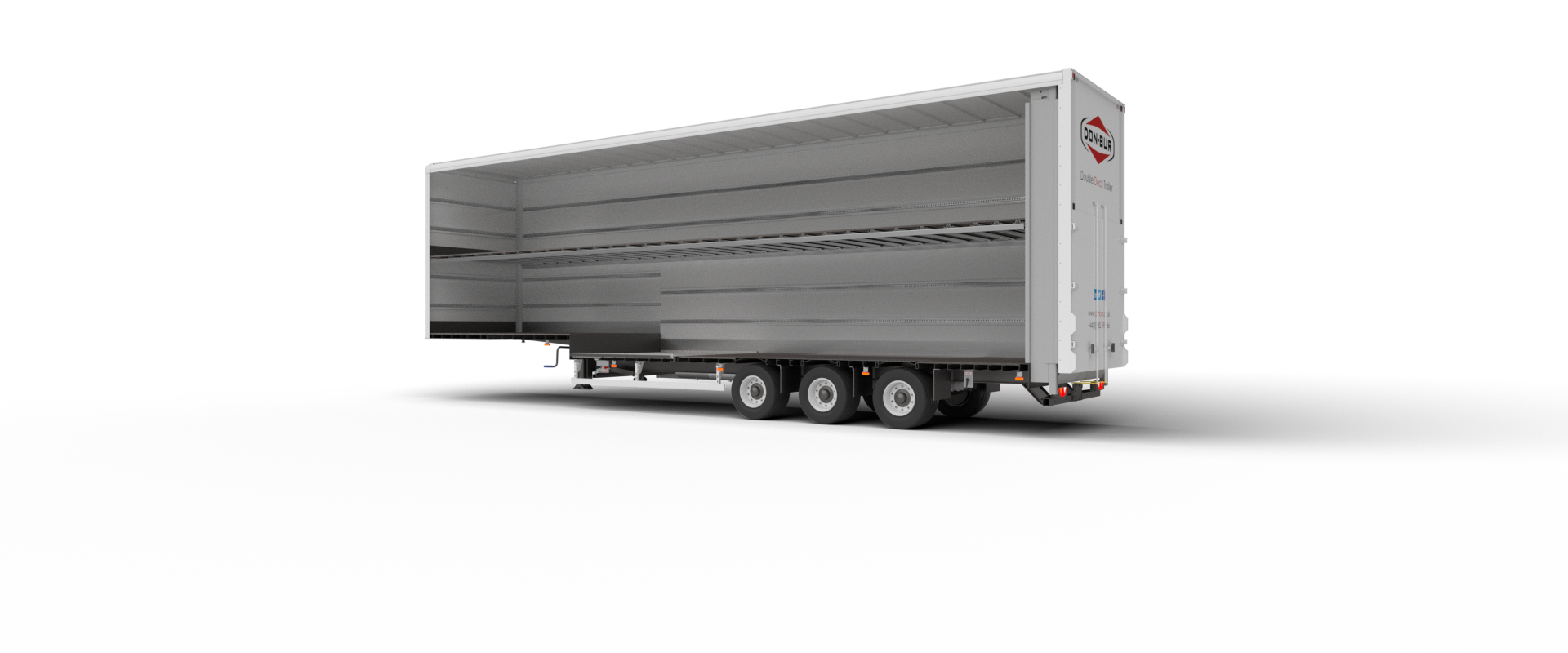 High Cube Double Deck Trailers
What Are Double Deck Trailers?
Double Decks are designed to give you twice the carrying capacity of a standard single deck, reducing your number of trips by half.
They are now commonplace in the transport industry and are predominantly used for the distribution of lighter-medium goods.
Quality Assurance
Quality
Guaranteed to provide peace of mind
Durability
Engineered to perform consistently in demanding environments
Customer Service
The highest standard of attention to ensure complete satisfaction
Backup
365/7/24 hr after sales service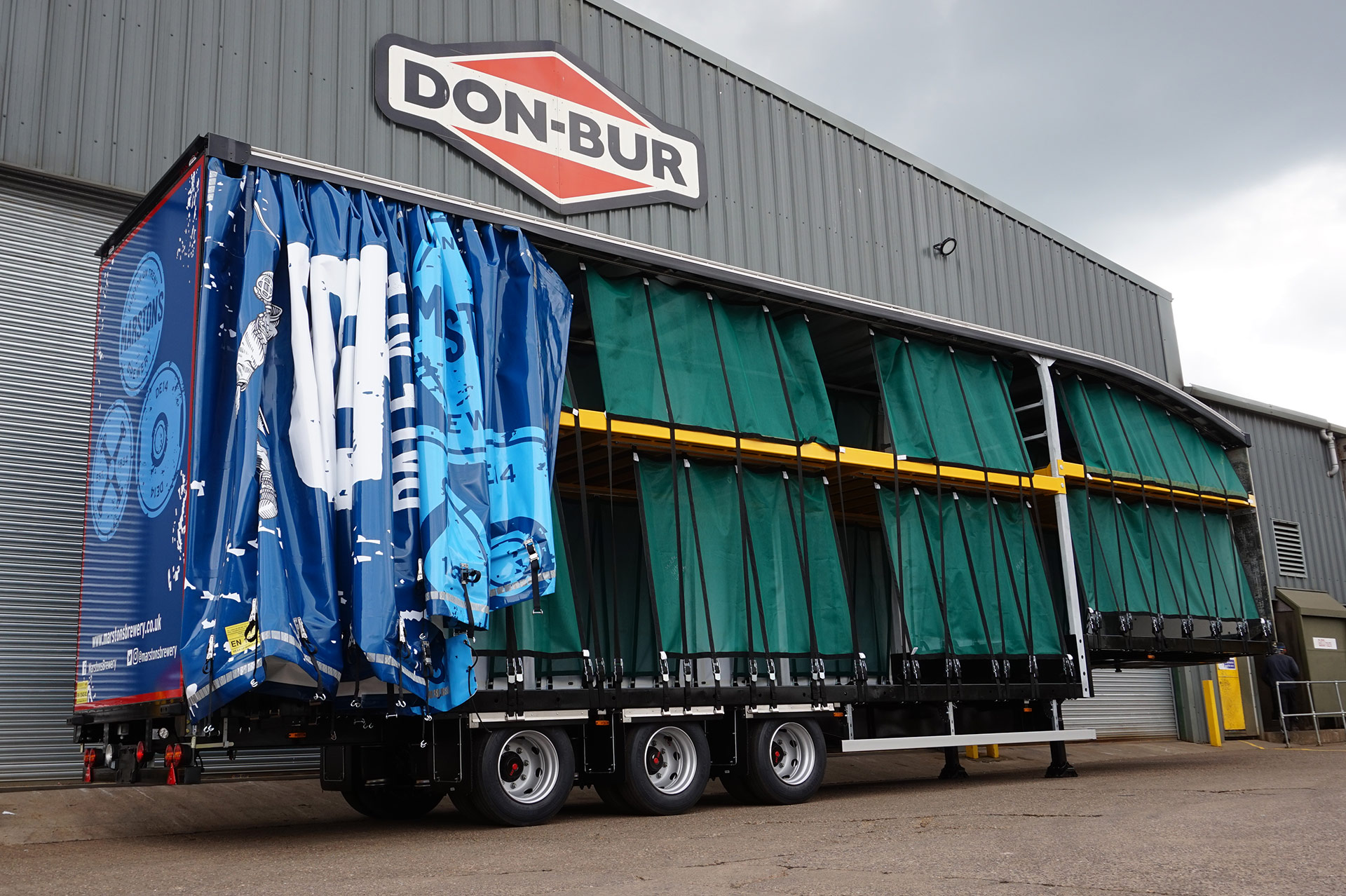 Features
No company has more experience in the manufacture of Double Deck trailers than Don-Bur and their trailers now dominate the major UK fleets.
Heavy duty construction
Fixed, Ratchet & Lifting Deck + Tail-lifts to suit requirements
Industry-leading 52 UK pallet capacity
100% Capacity Increase
With a potential increase by up to 100%, Don-Bur's Double Decks can provide operators with a 52 UK pallet carrying capacity, which is an additional 26 UK Pallets over a standard Single Deck Trailer.
This can reduce the number of deliveries by 50%.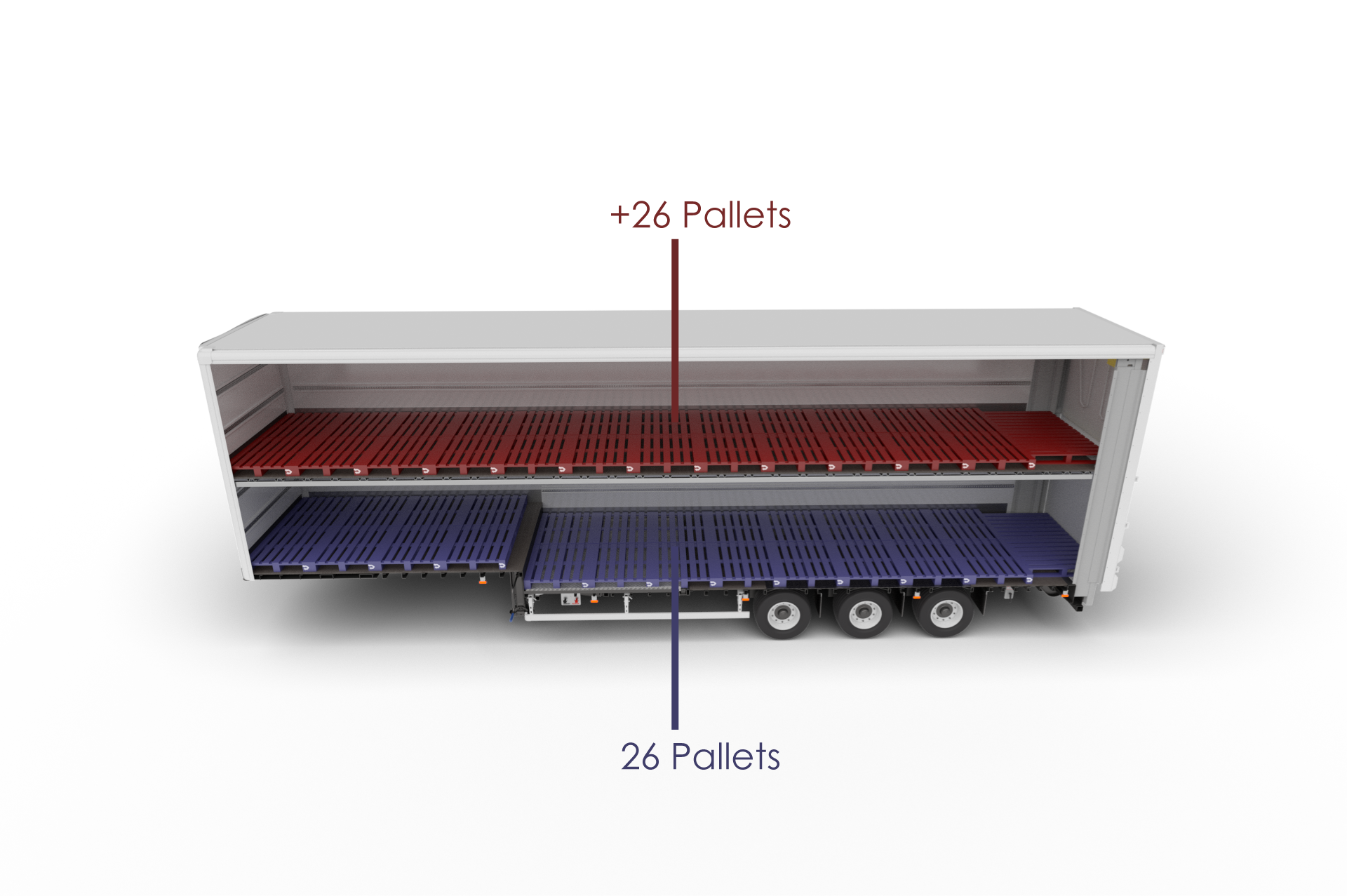 Fixed Second Deck
Don-Bur's fixed Double Decks have static double decks positioned at a height to suit your payload.
Box or curtain sided
3/4 or full-length deck
Standard or mesh type 2nd deck
EcoStream Fuelsaver roof (average 15% saving)
Lifting Second Deck
Lifting Decks (hydraulically powered) have become increasingly popular at the bay due to the speed and flexibility of loading. A full deck can be loaded completely before lifting to an upper position and loading underneath.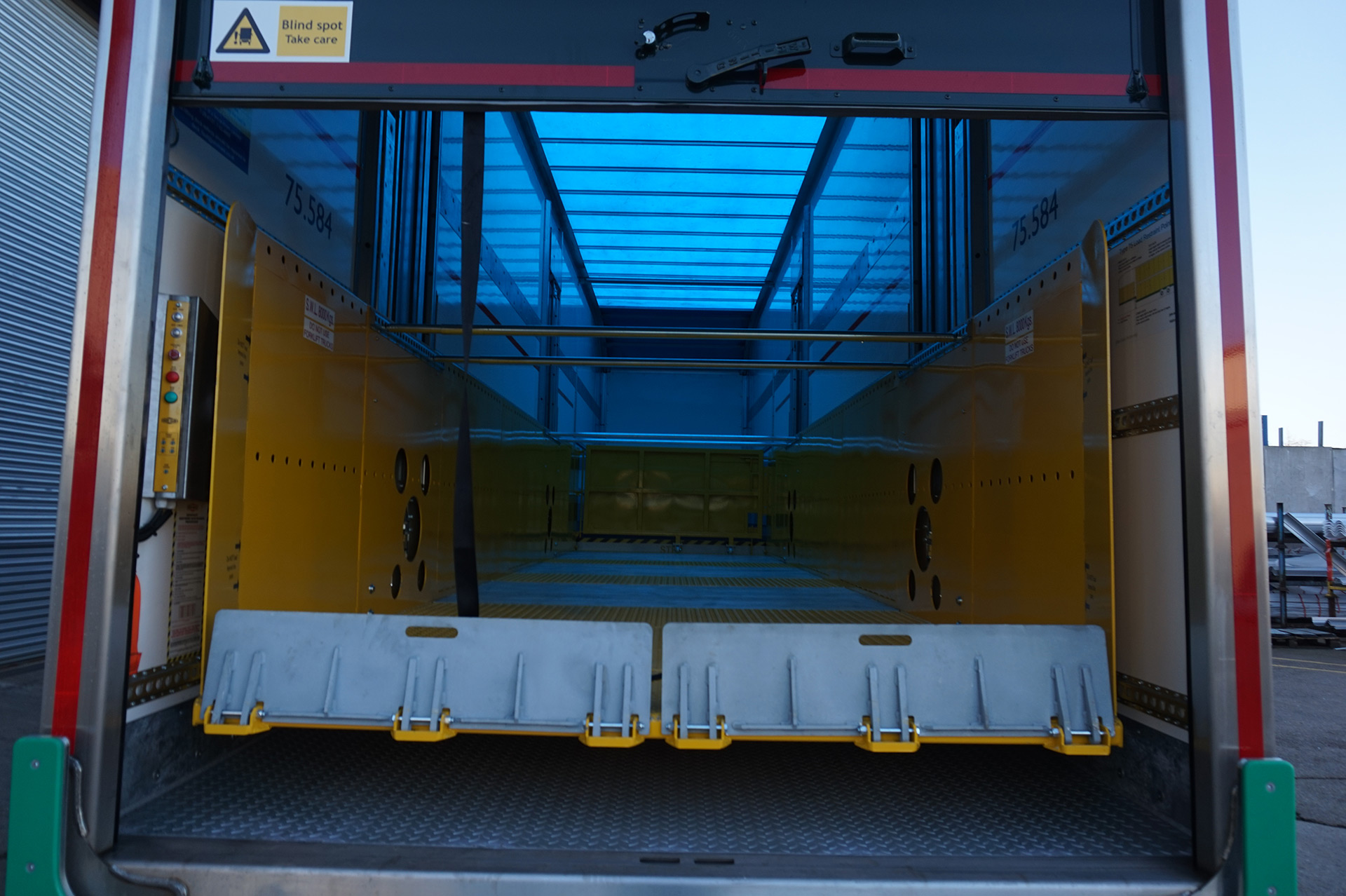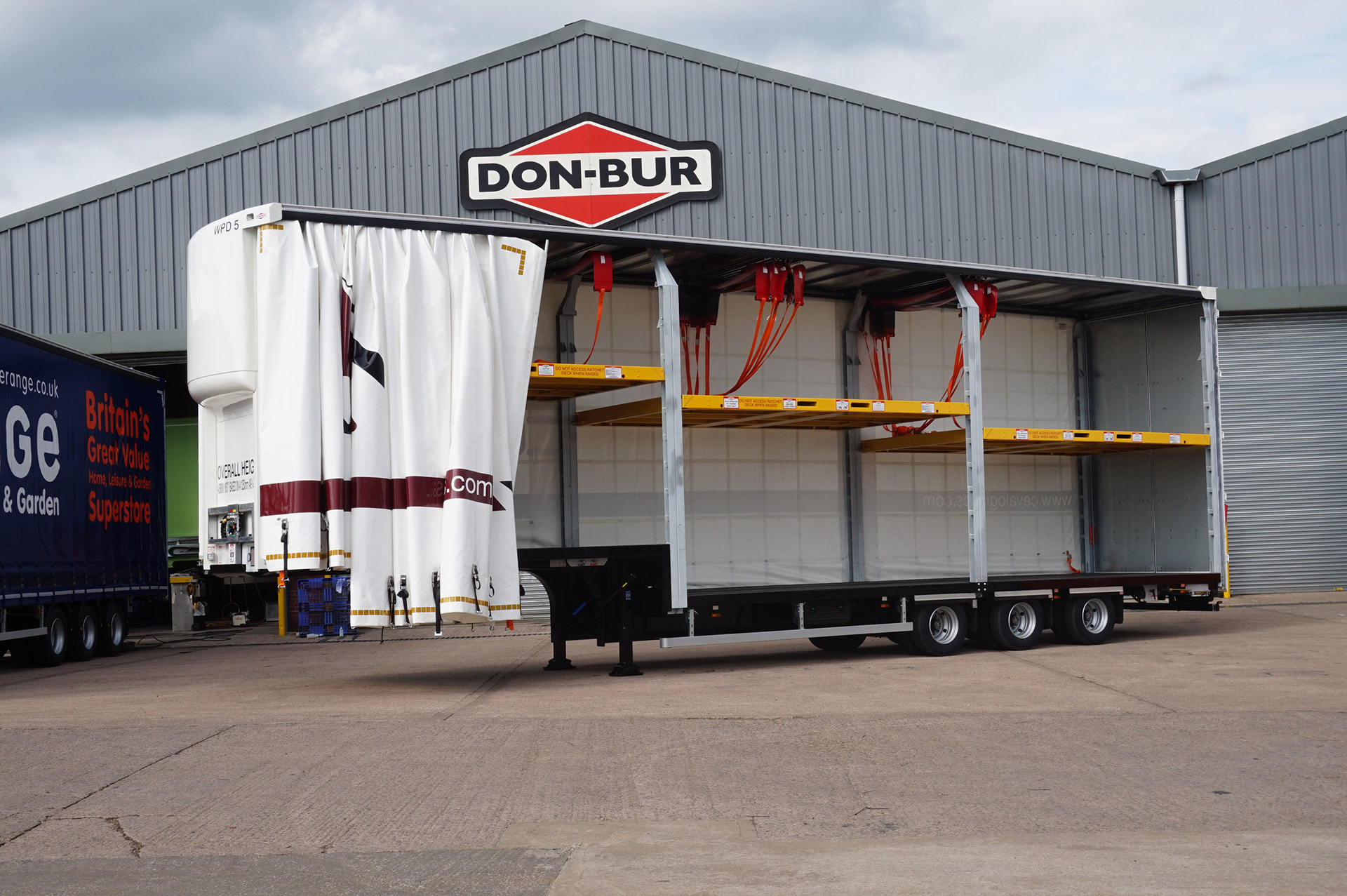 Ratchet Second Deck
The variable height Ratchet Double Deck system is designed and manufactured exclusively by DON-BUR. (Registered Design 2001). Ratchet Decks are a forklift operated, multi-positional, mechanical lifting deck system for curtain sided trailers.
Urban Double Deck Trailers
Urban Double Decks are becoming more and more commonplace in cities as operators try to increase the efficiency of their fleet. Don-Bur offers a number of Urban solutions to suit your requirements
Box | Curtain | Straight Frame | Step Frame
Lifting, Ratchet & Fixed Deck options
City-Safe & City-Quiet options available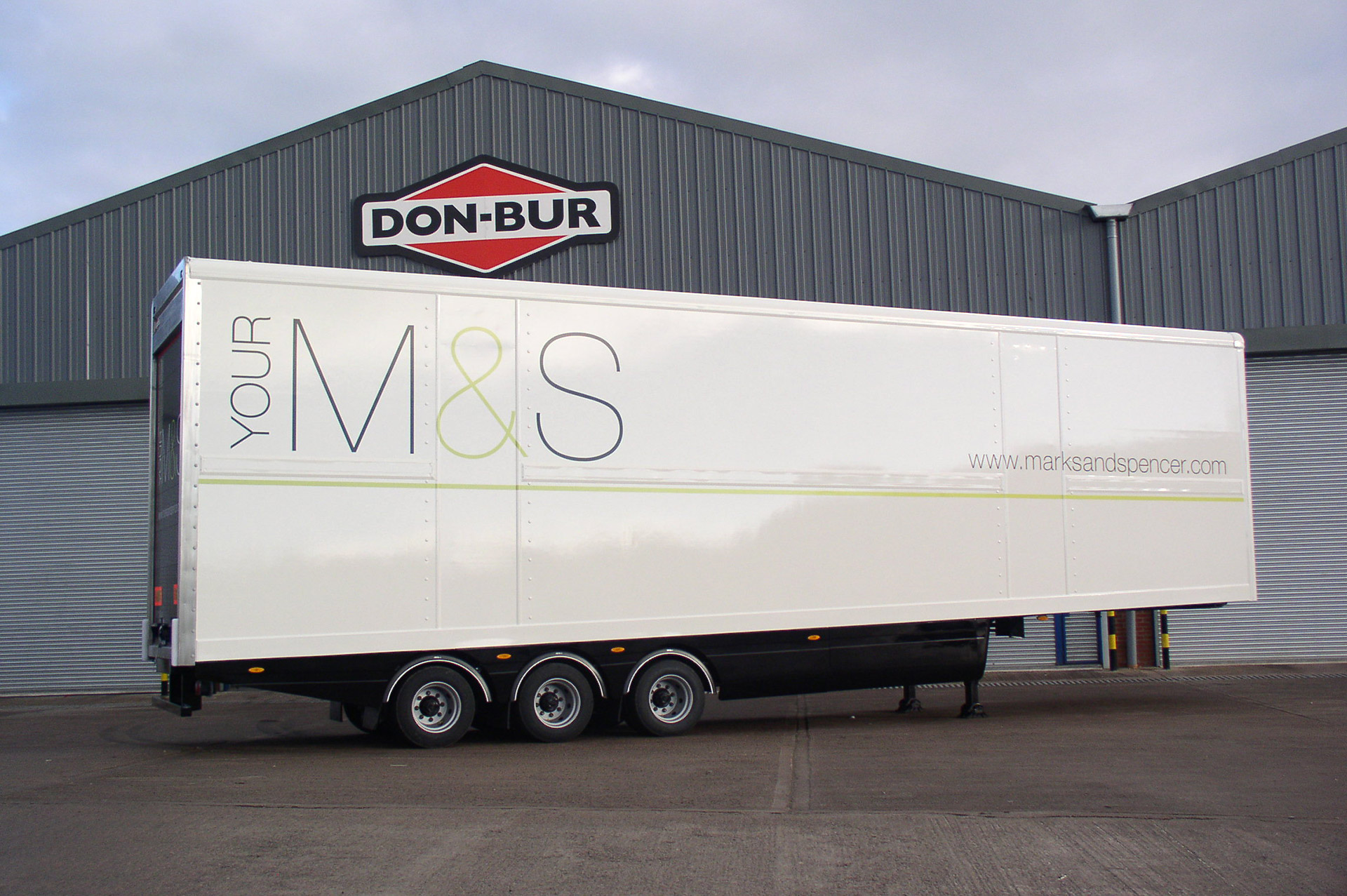 Wedge Bodywork
Don-Bur 'Wedge' Double Deck trailers provide operators with full height loading on both decks, capable of achieving deck clearances of up to 1928mm (6' 4") and a 52 UK pallet capacity on all types.
Special Types
Don-Bur manufactures a variety of double deck solutions to cater for specialised operations.
Independent Suspension | Drop-Frames
Butterfly Decks | Revolving Decks | Removable Decks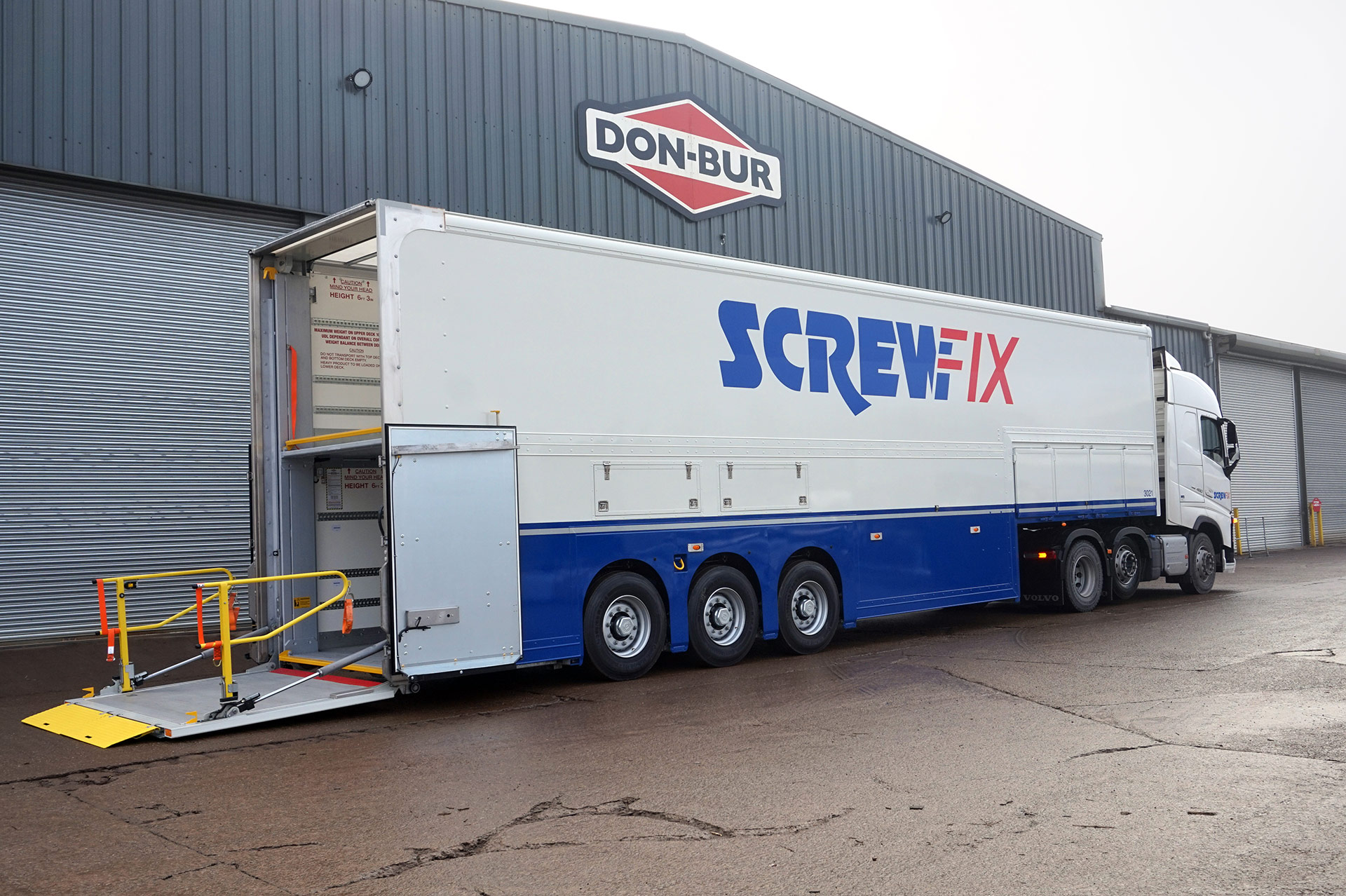 3D Interactive Model
This content is interactive.
Typical Key Dimensions
8.0m - 13.6m (15.65m for LST's)
3.3m - 4.95m high
2.55m wide
Apertures - Box
Up to 4.0m Rear Aperture Height
13.495m long (15.445m for LST's)
Apertures - Curtain
Up to 4.0m Rear Aperture Height
13.395m long (15.445m for LST's)
Weights & Capacities (13.6m standard length)
52 UK pallets (1200 x 1000mm)
66 Euro Pallets (1200 x 800 mm)
44T Maximum Gross Vehicle Weight (Vehicles of 6 axles)
Options & Documentation
Most trailers have 35-40% unusable space and 50% of loads are limited by volume, not weight.
Cost effective
Optimise maximum space
Improve operational efficiency
Specified for trailer or Rigid Bodywork
Numerous configurations to suit your operation
Ideal for Box Vans or Curtainsiders
Straight or Step-Frames
A standard 13.7m trailer will carry a maximum of 26 pallets whereas double decks commonly carry 44 and can potentially carry 52 pallets.
Pillar configuration/spacing to suit operation
Buckleless Curtains
Lightweight panel options
What other features and options are there? Tell me more about load restraint What facilities are there for livery?